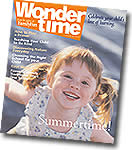 For a sneak-peek go to:
http://wondertime.go.com/index.html
DAVID MEVORAH and LISA STIEPOCK were appointed to the newly-created positions of publisher and editor, respectively, of WONDERTIME magazine, a parenting magazine slated to launch in early 2006.


Wondertime is a new magazine dedicated to helping parents nurture their children's love of learning. A blend of how and why, Wondertime inspires moms of infants through 6-year-olds to see the world through the eyes of their children, and to celebrate the wonder of this all-too-fleeting time.
Wondertime mixes playful activities and everyday adventures with compelling insights into the fascinating ways children develop physically, socially, intellectually, creatively, and emotionally. We hereby give moms permission to revel in the simple joys of raising a child, and to view the world as their children do — as an awe-inspiring place.

No writers guidelines available at this time.