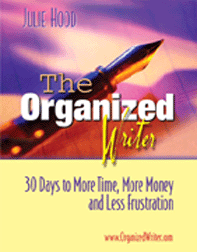 Do you need to get your writing organized? Check out this website:
http://www.organizedwriter.com/
The Organized Writer has some great free writing articles as well. Just click the FREE ARTICLES tab once you get to the website.
~~~~~~~~~~~~~~~~~~~~~~~~~~~~
* Learn the Four-Step Secret to a Perfect Manuscript
Tired of proofreading for hours? Moving from first draft to perfect manuscript can be a slow and tedious exercise even for the most experienced writers. But you can create a perfect manuscript with just four simple steps....
* Personality Traits of a Real Writer
All writers are creative types, with cluttered desks, and messy piles, right? To be a good writer, one lives on coffee and stale potato chips only coming up for air when the book's done, right? Maybe. Or maybe we as writers have convinced ourselves that this is how a "real" writer acts....
*Sell Your Book with Pennies
Imagine you share a huge penny jar with each of your potential readers. Every interaction with a reader either adds or subtracts pennies from the jar. When readers need your info (non-fiction) or entertainment (fiction), they will trade the jar for your book, but only if the jar is full. Overflow the penny jar, and your reader will buy nearly everything you write.