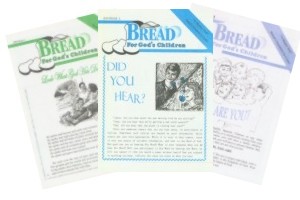 BREAD FOR GOD'S CHILDREN
P.O. Box 1017Arcadia, FL 34265
bread@sunline.net
http://www.breadministries.org/
Description: Christian family magazine with Bible study, stories, teen pages, parent news, ideas, and more.
Frequency: 6x/yr
Circulation: 10,000
Nonfiction: Articles or craft ideas based on Christian principles or activities; how to implement Christian ways into daily living; 600-800 words; $20-$30.
Queries: Not necessary
E-queries: No
Unsolicited mss: Yes
Submission formats: Hard copy
Response: Submissions 1-6 months.
Freelance content: 20%
Kill fee: No
Rights: 1st
Payment: On publication
Tips: Stories must be from a child's point of view, with story itself getting message across; no preaching or moralizing, no tag endings. No stories with speaking animals, occult, fantasy, or romance. "Our purpose is to help Christian families learn to apply God's word in everyday living. We are looking for writers with a solid knowledge of Biblical principles and who are concerned with the youth of today living according to these principles."